Who says Quinoa is only for dinner? The Blueberry-Pecan Quinoa Bowl is the perfect healthy breakfast.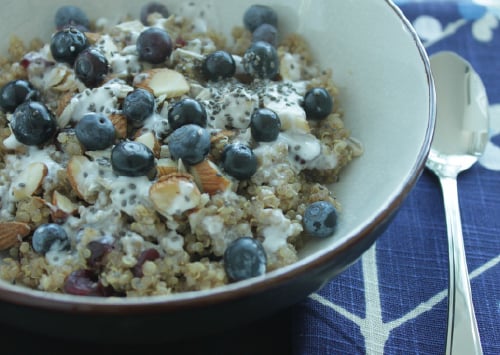 Blueberry-Pecan Quinoa Bowl
¾ cup cooked quinoa
¼ cup coconut milk OR
¼ cup unsweetened almond milk
1 scoop Vanilla Protein Powder (Vegan)
Sprinkle of cinnamon
2-3 Tbsp chopped pecans or almonds
2-3 Tbsp shredded coconut
½ cup blueberries

Place cooked quinoa in cereal bowl and pour ¼ cup coconut milk OR ¼ cup almond milk and add a scoop of vanilla protein over quinoa. Next, sprinkle remaining ingredients as desired over the top.
Note: Whey protein can be substituted for the Vegan protein, but this will negate the dairy free feature.
1 recipe makes 1 serving. 511 calories, 22g fat (good fat), 44.5g carbs, 26g protein