INSANIACS unite; be true to yourself and help others!
The Alaska Club West - Wed. 11/19, 6-8pm
Our core values at The Alaska Club include community involvement and fundraising efforts, especially with causes near to our hearts. Recently, we have focused our fundraising efforts to give back to Augie's Quest— the charity of one of the Fitness Industry's biggest names—Augie Nieto, to help fight ALS (Lou Gehrig's Disease).

Augie co-founded Lifecycles Inc. in 1980 which became one of the largest commercial manufacturers of fitness equipment in the world. Tragically, Augie's life took an unexpected turn as he was diagnosed with ALS in 2005. Augie then founded Augie's Quest to fund research and drug development aimed at ending ALS. Since 2007, Augie's Quest has raised nearly $40 million in support of finding effective ALS treatments- making it the largest individual fundraising program for ALS!
This is where both you and The Alaska Club come in. If you loved Hip-Hop Cycle, are a regular group fitness groupie or simply want to help support a cause, join us for this INSANE fundraiser. A 2-hour back to back group fitness class on Wed, 11/19, starting at 6:00pm, designed for all fitness levels. We kick the night off with an hour of Insanity, a high-intensity, total body conditioning program taught by our very own Master Trainers Tammy, Steve and Russell. PiYo co-founder, Michele Park, will be flying in to lead participants through an hour of PiYo, a fusion of Pilates and yoga beginning at 7:00pm.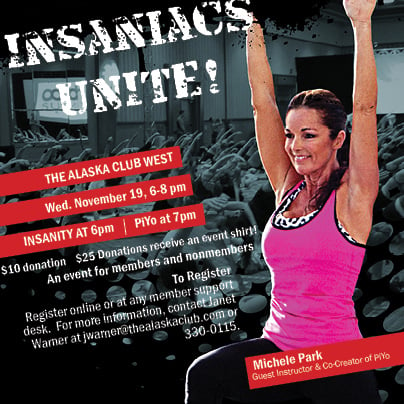 We invite you to not only join us on our mission to fight this horrible disease and to support ALS research, but to also be true to yourself, taking advantage of this one of a kind fitness event that will definitely make you sweat.
Space is filling up quickly! Donations** are $10 to participate in one or both classes and $25 to participate and receive a specialized event shirt. You can register online, at one of our Member Support Desks or through any Group Fitness Instructor.
**All donations will be given directly to Augie's Quest.