Being born and raised in Alaska is something that I am very proud of. I love that no matter where I go; I have an amazing conversation starter being from this wonderful place. Basketball has taken me to so many places and I've been able to share with people how wonderful Alaska is, now I would like to bring back to Alaska what worldwide basketball has taught me.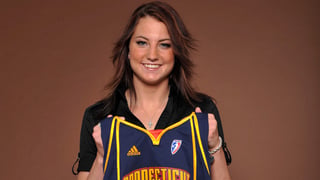 I played basketball for The University of Nebraska Lincoln, which allowed me to travel all over the United States at the collegiate level. It was during my time at UNL that I learned from the 2010 NCAA Coach of the Year Connie Yori and her wonderful support staff, the importance of nutrition and strength and conditioning.
After completing my Bachelor of Science with a Minor in Chemistry and Psychology from Nebraska I was drafted No. 3 overall in the 2010 WNBA draft. I've now completed 5 seasons in the WNBA under two different coaches. After my rookie year in the WNBA I played in Hungary in the Euroleague. The Euroleague is a competition comprised of the top teams in Europe in their respective countries competing against each other. I've played in all 3 of the top 3 leagues in the world, finishing my last 3 off-seasons in Australia.
I am so very excited to bring all of the basketball knowledge I have accrued over my years of playing, and from all the different coaches and players I've crossed paths with, back to Alaska. Alaska has given so much to me with the support of friends, family and fans, along with being a great place to call home! I am thrilled to be able to give back to the state that has given so much to me.
I'm looking forward to putting on my first basketball camp in Alaska. Whether you are serious about basketball or haven't even made a basket I'm looking forward to working with enthusiastic athletes who want to get better. Bring a great attitude and any questions you have and it should be a great session.
For more information on how to participate in this FREE clinic, contact Janet Warner at 330-0115 or by email at jwarner@thealaskaclub.com. The Clinic will be held on Saturday, May 2nd at the South Club:
11:00 – Elementary age participants
12:00 – Middles school age participants
1:00 – High school age participants