---
Construction is underway for a pool and splash park at The Alaska Club Eagle River with expected completion in late 2015. The 4-lane, 25-yard, saltwater, lap pool will include a more than 70' double-twist water slide.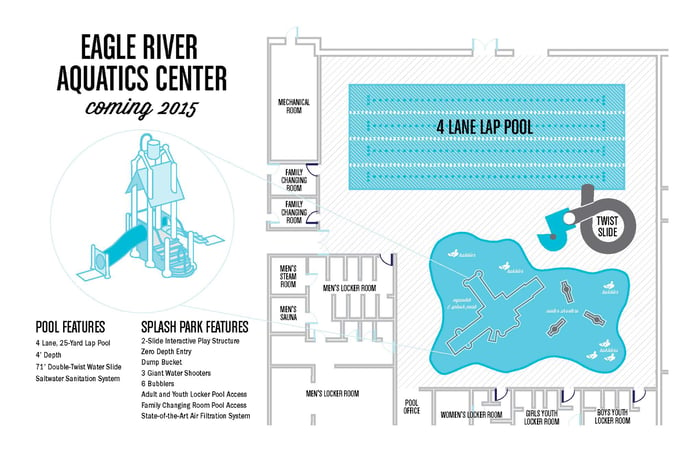 The splash park will come complete with a large interactive play structure designed exclusively by the Canadian firm Empex Water Toys and will include a dump bucket, giant water shooters, bubblers and pool access from all locker rooms and showers. The design will emphasize comfort and convenience with separate locker rooms for youth and adults, as well as family dressing rooms with private showers.
"This state-of-the-art aquatics center will enhance The Alaska Club's mission to create a full family and fitness offering in this community. The a pool at this location has been an in-depth conversation for some time, and now that construction is underway, it will bring exciting new opportunities for our members and the entire staff at The Alaska Club, said CEO Robert Brewster."
There is no additional membership fee to have access to the pool; it comes with all Gold Level Memberships. A wide-variety of fun water activities are slated for the new pool and aquatics center, such as designated lap and open swim schedules, group fitness, enhanced birthday party rental options and much more.
We invite you to stop into The Alaska Club Eagle River for a tour of the existing facility and view the Pool & Splash Park Site Plan, or stop by our booth at this year's Bear Paw Festival July 10-12 to learn more.
The Alaska Club's network of clubs statewide are designed to meet the wide-variety of needs of all of our members, while providing convenience and allowing our members to workout anytime…anywhere, the way fitness should be!
---