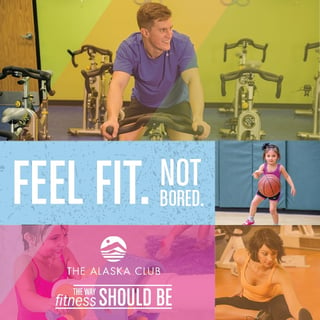 Choosing a gym or health club where you will work toward your personal fitness goals often depends greatly on your own interests and how you feel when entering and using a facility. For some there are particular activities they wish to have access to such as sports in addition to exercise equipment. For others, the knowledge that there are options for families who want to spend time together exercising or recreating in a variety of ways is important. Perhaps it's the ability to get a massage when a workout is completed as a reward. One of the best ways to determine if a health/fitness location is right for you is to try it out! Scheduling an appointment for a tour is a great way to experience what a club has to offer. When touring, be sure to ask questions and review the options in equipment and variety of services available. Exceptional customer service also can put us at ease and make us feel good about the place where we will spend time investing in our healthy lifestyle.
One of the more recent trends in the fitness industry is reduced services and amenities in a gym setting, providing access to equipment only as a means of keeping things simple. In speaking with individuals who have used such gyms, often they say that there is something lacking in the experience. Having access to a full-service club creates an atmosphere that makes the sometimes difficult commitment to exercise easier and helps with continued motivation. Equipment alone is seldom a good enough reason to return again and again, but feeling like part of a community enhances the feeling of wellness we all seek as a result of our efforts. Here are some reasons to consider The Alaska Club:
Convenience – with 14 locations to serve you, you can catch a workout at your convenience anytime and just about anywhere.
Variety – offering group exercise, cardio and strength training options, personal training, spa services, including massage and tanning, tennis, basketball, dedicated cycling and yoga studios, childcare, pro shop and more, The Alaska Club has your choices of recreational, fitness or family needs covered!
Comfort

–

with fitness professionals to offer guidance and advice, beautifully appointed lounges where you can catch up on emails and enjoy a drink or snack, and friendly staff to welcome and assist you, pushing hard through your routine knowing you can relax in the same place makes The Alaska Club different.

Community Support

– The Alaska club works within communities alongside many national organizations such as The American Heart Association and Augie's Quest (to find a cure for ALS), raising funds and building awareness, while offering convenient ways for members to get involved with many important causes.
Fun – not to be overlooked, experiencing some of the cutting edge exercise options in classes, machines and equipment along with the ability to change things up with a sport between routines and special events aimed at family engagement, The Alaska Club offers more ways to have fun!
For more information on class schedules, swim lessons, tennis and racquetball and our spa amenities, go to thealaskaclub.com.