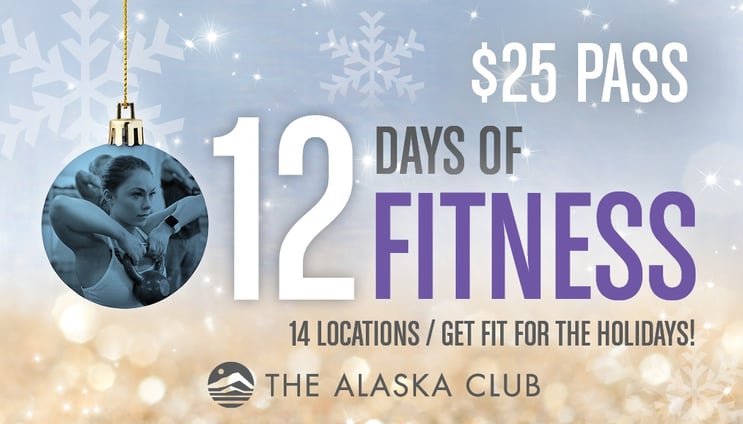 "On the first day of fitness, my true love said to me, 'you've got an extra inch on your bel-ly.' On the second day of fitness, my true love said to me, 'come and drink this protein smoo-thie.'…"
Ah the holiday season—the joyful time of year when we are faced with temptations and delights in the forms of sweets, treats and gatherings around celebrated meats. Family, friends, football, food and fun are often accompanied by a buffet of excuses for letting the workout slide in favor of some well-deserved relaxation and indulgence. Here are twelve fitness tips to help you enjoy the fun and get through the season with exercise goals intact.
1. Water—proper hydration unlocks the body's potential to get the best from nutrition and exercise and helps improves all bodily function. About three ~20-32-oz. refillable water bottles is an appropriate amount for most people daily. More water is needed in cold, dry, hot environments and with higher activity levels. Gift hint: find a great selection of logo water bottles in the Pro Shop at The Alaska Club.
2. Portions—moderation is challenged mightily during the holidays. Taking the time to chew slowly, savor and pace ourselves should help with general awareness of portion size. While not guaranteed, this practice may also enhance our enjoyment of company and conversation. Other strategies include placing utensils down often, drinking plenty of water (again), sipping wine or other beverages and offering an occasional toast for a pause and reflection.
3. Breathe—concentrating on breathing can provide many benefits. Slow, deep breathing helps eliminate toxins and promotes natural stress relief and relaxation. Good breathing (exhale on positive part of motion) while exercising and stretching can help enhance recovery. Joyful as the holidays are, did we mention stress relief? Warm up your breathing and try a yoga format at your home club or at Studio if you find yourself in Anchorage.
4. Muscle—add or continue strength training as part of your workout routine. Adding one pound of muscle can increase calorie burn by 500-cals per day. Try our December App challenge focused on adding lean body tissue to reduce fat and burn more calories.
5. Intervals—adding short intervals of cardio activity between strength exercises is a great way to combine benefits and keep boredom at bay. Varying a cardio workout with bouts of up tempo work and greater and lesser resistance/speeds increases calorie burn. Try one of our Coach led Team Training sessions for a cutting edge high intensity interval workout!
6. Meal Prep—taking time to get into the holiday spirit by preparing your own snacks, or party dishes may let you sneak some healthy into the mix and fun in the process. Find some easy to follow healthy holiday recipes following this article.
7. Adherence—sticking with exercise may be harder during the holidays but it remains the line in the sand that helps us maintain healthy body weight and keep our muscles and joints feeling strong. While the routine may take a hit or two, keep up with at least two strength and three cardio workouts of at least twenty-five minutes in duration weekly. Hiring a Personal Trainer can often be another secret to success with individualized guidance and someone else helping you monitor and personalize your workouts.
8. Play—while exercise is important it comes in many forms and getting together with family and friends during the holidays to play sports or just recreate in the gym can be a great way of burning more calories and having more fun. Shoot some hoops, play racquetball, tennis, pickle ball, volleyball, practice soccer skills or toss the pigskin.
9. Walk—taking breaks in the holiday festivities does not always need to mean high impact work. Taking walks can be a pleasant way of getting some fresh air, a break from the action and a chance to let the body move.
10. Mood—while good food, good friends, good cheer and even good exercise can all help with a good mood, making it a conscious choice also makes it a part of your workout for a healthy life. Lower stress allows the body to benefit more quickly from exercise and more fully enjoy the moments between workouts—which is for most of us the whole point of striving to be fit!
11. Fashion—okay so this is a fitness article, but when else better to show off your workout bod then with great outfits during holiday get-togethers! Pick some gems for yourself while out their shopping for everyone else and show it off. Look good, feel good, cheers!
12. Be SMART—be safe, be well and be thinking now about dressing up your goals for after the holiday season. Now is the time to begin laying out some Specific, Measurable, Achievable, Realistic and Timed fitness goals for the New Year. Let us help. Come see us at the clubs. Happy Holidays, everyone!
Give the gift of fitness this holiday season with The Alaksa Club 12 Days of Fitness Pass. This pass allows access to all of our gold level clubs for 12 days for just $25. Jump on this fitness train now, offer expires 12/31/2017.