While the holidays are typically a time of sharing cheer with family and friends, the season also brings with it various sources of stress for each of us. Here are three ways to keep your cool while navigating the hustle and bustle this year.
Get a professional massage— there is something to be said for taking time for yourself in the midst of the time you are spending (and $) on everyone else in your life. Massage not only helps alleviate physical stress through the process of working knots and adhesions out of muscles, it provides a mental boost through relaxation and the stimulation of touch. Taking the time to get a massage is a wonderful way to take a break and tune out the scatter and fray of the holiday rush and emerge refreshed and ready to tackle the rest of your shopping list. There are also many wonderful alternatives to traditional massage these days from touch-less Hydromasasage to a variety of foam rollers, and self-massage tools in the Pro Shop for quickly relieving stress on the fly…and of course they make great gifts.
Try a HIIT Group Fitness Class— try an Insanity or P90-X class with a friend! With all of the various details of our holiday agenda, taking your mind off of worrying about which muscle group day it is or how to proceed through your circuit or split routine can take away a little stress from you, and working out with friends make it even more fun! Let the Professionals take over and work you and a happy group through high intensity intervals of strength and cardio for a combined total body workout. You will save time by working strength and cardio in one hour and the change in activity (if you haven't been doing this sort of workout) can be a great energy boost and stress beater.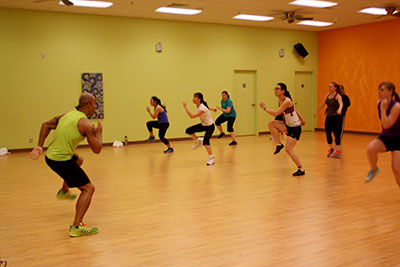 Cross-Train then Expand your Cool Down/Stretching— put variety in your cardio workouts rather than using the same machines or routines you and your body are used to. Combining different activities in one workout—such as cycling, running and rowing for example—boosts your body's response by placing different demands on you physically and relives stress through the concentration required to coordinate the changes in movements. Then spend a little extra time on your recovery phases of your exercise/workouts for relaxation, breathing more slowly and include longer stretches, holding 30-seconds or more on static (held stretches), and make sure you do a little moderate cardio cool down activity at the end to speed up muscle recovery through circulation.
The stressors that come with the holiday season may be out of our control to remove entirely, but we can control how we proceed through this festive time and by trying some of the strategies detailed above perhaps we can cut some of that stress and earn an extra treat along the way. Happy Holidays!