In the fall of 2013, I was really starting to have some pretty persistent and growing back problems. Now if you suffer something like this, my very first recommendation to you is to get checked out by your doctor.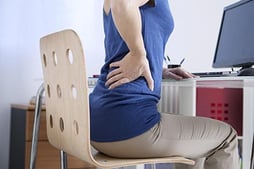 My first move, however, was based on my experience with back pain. Because my back pain started when my sitting at a desk at work for hours worsened the pain, I knew then that my pain was only due to my new work situation. Back problems are reputed to be America's number one health problem so I correctly assumed that there would be an abundance of stretching exercises online. First I googled "Lower back pain exercises" and was not disappointed. I tried my own little series of these every day and was pleasantly surprised with the results. In very short order, the pain disappeared. Much to my chagrin, when the school year started again in 2014, despite my little morning exercise routine of stretching, the pain came back with a vengeance. So I tried a series of things that again, incredibly provided wonderful pain relief. I bought special shoes which were ergodynamically correct. I received some shots in my knees from my doctor for some persistent new problems, but I also was proactive and set up an appointment with a
massage therapist
at the
Alaska Club East
. Then, I took a yoga class where there were some wonderful stretching routines that helped teach me the techniques to stretch my quadriceps-which, coincidentally have something to do with lower back pain (at my age, at any rate.) I also tried some of the machines and weights in the weight room upstairs at Alaska Club East to strengthen my back muscles. Deliverance! The trick for me is to practice these things routinely so that the pain stays away. But if they come back and I haven't been doing these things, I'll certainly know what to do!