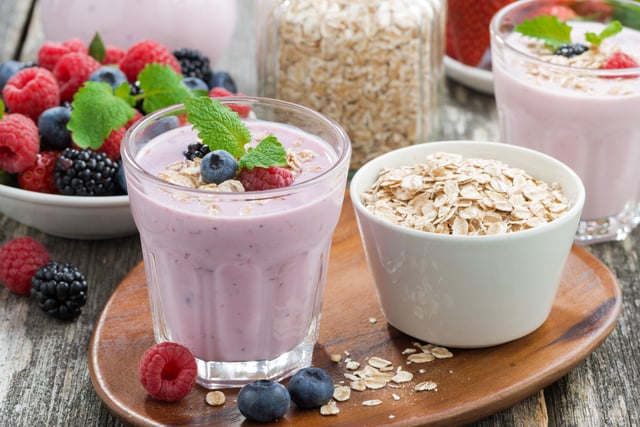 We've all experienced the uncomfortable feeling of a meal sitting in your stomach like a rock while you attempt to work out. So what do you eat to avoid the dreaded "food baby"?
To get those feet moving and make sure you don't feel like you wasted a solid hour in the gym, go for healthy foods that will fuel you:
Oats: Rich in fiber, oats will have you feeling comfortably full and provide you with vitamin B to help keep a steady energy level. Add some protein to your oatmeal for some extra energy to get you through your workout.
Bananas: These oddly shaped yellow treats are packed with potassium and healthy carbs. Plus the natural sugars will get your blood flow moving and are a great sub for unhealthy, sugary sports drinks. Move along apples. A banana a day will keep the workout drag away.
Whole Grains: Another source of fiber and carbs is a slice of bread. Put some banana slices on toast for added value, and even yummy peanut butter spread for protein.
Dried Fruit and Berries: When you need a boost and you need it fast, turn to dried fruit to do the trick. The sugars provide you with extra energy, and can even reduce stress levels.
Smoothies: Made with the right ingredients, a smoothie can be the perfect pre-workout snack. Omit the ice cream for frozen fruit, spinach or kale, Greek yogurt, and almond milk. You'll have the perfect combo of carbs and protein to conquer your workout.
When to Eat?
It's best to eat these meals 30 minutes to an hour before your workout for proper digestion and absorption.
What to Avoid
Avoid fatty and greasy foods that will slow down your workout and leave you longing for the couch. Also, avoid spicy food, dairy and carbonated beverages, as all can leave you with an upset stomach. Nobody wants to be that person in yoga. And say no to your sweet tooth. Natural sugars found in bananas and other fruits are okay, but a candy bar before a workout will only result in a sugar rush, followed by a crash. Bland, easy-to-digest foods, will always be your best friend when it comes to preparing for a workout. Lastly, avoid not eating food. This can leave you light headed, nauseated and fatigued, doing more harm than good to your workout.
If you have any questions about the nutritional value of your meals, visit The Alaska Club's website at http://www.thealaskaclub.com/fitness/fitness-tools to access their self-nutrition data tool and the USDA's Food and Consumption Database. If you have any additional questions, we encourage you to talk to our expert personal trainers at The Alaska Club, who can provide you with helpful tips on what you should be eating before a workout.
Did you forget a snack? The Alaska Club's front desk also includes a mini snack bar with protein drinks, healthy snacks and fruits to aide your workout, before and after.
We'll see you soon!