Gym clothes. You have to admit, even when you're cramming your 20 pairs of leggings or tanks into a drawer, it won't stop you from buying more. It just seems we can never have enough. But are we buying the right clothes? We can all admit, sometimes we go for style over practicality, which begs the question, what should you really be looking for in your gym apparel?
Rule 1. Let It Breathe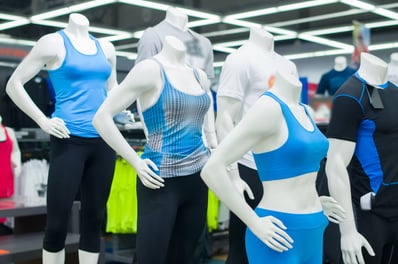 All leggings are not created equal. Thick leggings with low breathability are not only breeding grounds for bacteria, but also leave cotton heavy with sweat, resulting in unpleasant chills when your sweat begins to evaporate. Make sure to look for leggings or pants that are sweat and moisture wicking, with few seams. The more seams, the more uncomfortable pinching, which can cause irritation. Coolmax, Dri-FIT or Capilene are all materials that are flexible and moisture wicking.
Rule 2. Tried and Tested
A tank or a pair of shorts may look great, but when you're on the floor doing push-ups or in the weight room doing squats, you may be revealing more than you feel comfortable with. It's important to test your clothing at different angles before buying. It's also important to test the clothing to make sure you feel comfortable during physical activities. A sports bra might feel comfortable at first try, but unless you give it the quick run and jump test, you won't know if it actually holds true to its purpose.
Rule 3. Banish Baggy
Baggy clothing will not get you far at the gym, especially if you get stuck in the equipment. Loose material can catch on machines, such as bike pedals or treadmills. You don't want to get out of the saddle in spin class, only to find your pants did not go with you.
Rule 4. Be like An Onion
Onions have layers. Model after them and you'll be set for your workout. While you can start off a class feeling a little chilly, you can also end a class with sweat dripping down your face. So instead of just wearing one thick layer, start off with a base layer, such as shorts and a tank, or a short sleeve T, and add on from there. Add leggings you can remove easily, paired with a light jacket or long sleeve shirt, and you'll be ready for whatever workout comes your way.
In Conclusion
Fidgeting in uncomfortable clothes can hinder your workout, (and B.O. can hinder everyone else's), so gear up for your #goals with the right workout gear. At The Alaska Club's Pro Shop, we offer a variety of clothing made to enhance your performance, including tops, tanks and shorts. And if you don't want to pay full price, sign up for our Good Life Membership, where you get 25% off any regular priced Pro Shop items, plus your choice of a free massage, personal training session or HydraFacial treatment every month. We also offer, swim gear, yoga mats, foam rollers and more, to make all aspects of your workout smooth.
So this spring, say out with the old and in with the new, and get gear that gets you to your goals.