If more laps in the pool are on your New Year's resolution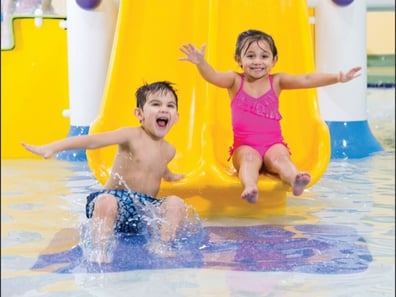 list, you are in luck.
The Alaska Club in Eagle River opened its new pool and splash park facility during the holidays adding a welcome addition to indoor aquatic opportunities in the Chugiak-Eagle River area.
The pool is 25 yards in length with four lanes across. A saltwater filtration system is used for the pool. The water, however, is not saltwater thus there is not full buoyancy in the pool.
But there are plenty of hours in the day that the pool is open for use.
Pool hours are from 5 a.m. to 9:45 p.m. Monday through Friday. Saturday and Sunday hours are from 8 a.m. to 6:45 p.m. Lap swim and recreational swim times are scheduled by the club.
It is being named the Sam Kehler Aquatic Center for Sam Kehler, who was the long-time vice president of facilities before his death in December 2015.
The aquatic center includes a children's splash park with a large play facility that includes a dump bucket, giant water shooters, bubblers and a two-chute side-by-side slide that dumps users in to a kiddie pool. The main pool also has a slide — a 70-foot long, double twister.
The aquatic facility is available for party rentals and swim lessons, Tina Day, Alaska Club public relations director, said.
"This state-of-the-art aquatics center has enhanced The Alaska Club's mission to create a full family of fitness offerings in this community," said Alaska Club CEO Robert Brewster. "Having a pool at this location has been an in-depth conversation for some time and we're so excited to now provide Eagle River with new aquatics opportunities for both members and guests."
Learn more about the Alaska Club's Eagle River location online at www.thealaskaclub.com/eagle-river-gym.