Contrary to popular belief, early research provides evidence for the argument that health clubs pose no additional risk in transmitting coronavirus compared to other public places.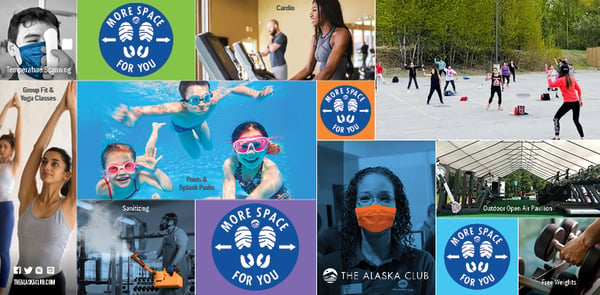 The coronavirus pandemic has cast a shadow on the immense benefits that health and fitness facilities provide their communities and members. Even with regions that have reopened fitness clubs, the damaging press questioning the safety of facilities has led to gym-goers dropping their membership out of fear of catching the virus.
However, recent data is shining a light on gyms' cleanliness, suggesting a low possibility of coronavirus transmission in fitness facilities implementing social distancing and other safety measures.
First Study of Its Kind Reveals No Additional Risk of Coronavirus at Gyms
Interesting new research out of the University of Oslo found no COVID-19 transmission associated with fitness centers in a randomized trial of reopening fitness facilities.
The study included 3,764 fitness club members, ages 18-64, with no known risk factors for severe COVID-19. Participants were randomized to have access to one of five reopened fitness centers in Oslo, Norway, or to have no access to a fitness center (control group). Participants submitted a COVID-19 test after two weeks.
Throughout the study, 81.8% of people used the gym at least once, and 38.5% at least six times. In the end, researchers found no cases of COVID-19 related to the fitness center. There was one case in the training group, but it's believed the exposure was likely at work, and no transmission during the trial was related to that case.
While more research is needed, this study provides some evidence that the social distancing and other COVID-19 mitigation policies implemented at fitness centers that have been allowed to open are effective. Thus, gyms may pose little to no additional risk for COVID-19 transmission compared to other public places.
As we've been assuring the public since the start of the crisis, health clubs are cleaner than many realize, and this study provides some evidence to support fitness centers as safe, supportive places to be active. The many benefits of regular exercise for maintaining optimal health and immunity are well documented. And during a time of social isolation and the associated impact on stress and mental health, people need physical activity, and support, more than ever.
Contact Tracing Shows Little Correlation to Visiting Fitness Facilities
Additional evidence of the safety of health clubs comes from the governor of Arkansas. Though Arkansas is experiencing a surge in COVID-19 cases, contact tracing shows that less than 0.3% had visited a health club.
Even though health and fitness facilities followed strict cleaning guidelines before the pandemic, after mandated shutdowns, they have since increased those policies tenfold.
IHRSA, along with hundreds of thousands of gyms, health clubs, and studios around the world are dedicated to providing safe, secure places for members to achieve their health and wellness goals.
The big question is: Is it truly necessary to keep fitness facilities closed or impose strict guidelines when the health of the globe is at stake?
When immune health and physical fitness is of utmost importance, we wholeheartedly believe that local health officials and lawmakers should view health and fitness clubs as a priority. In the short-term, we need to minimize the possibility of harm and maximize wellness. Exercise does just that, in addition to providing a beneficial effect on COVID-19 risk factors, such as:
immune health,
metabolic health, and
making it

less likely for someone to be hospitalized with severe coronavirus.
The next step is to share our findings and voice to lawmakers the public's need to open health clubs. We all want to be part of the solution, and as of now, exercise is one of the best resources in staying healthy during the pandemic.
This article was published by FitBiz Weekly and provided courtesy of IHRSA, of which The Alaska Club is a longtime member.