When mentioning yoga, for many, a series of uncomfortable twisted poses (arsana) comes to mind, but yoga is much more than handstands and touching your feet to your head. Yoga is a 5,000-year-old Indian practice that connects the mind, body and breath through meditation. There are many different variations of yoga, including yoga flow, aerial yoga, hot yoga, yin yoga, hatha yoga, lyengar yoga, and the list goes on. While we won't go into the details of each, the important thing to know is that yoga serves as a way to strengthen the mind and the body simultaneously, as they learn to move fluidly together.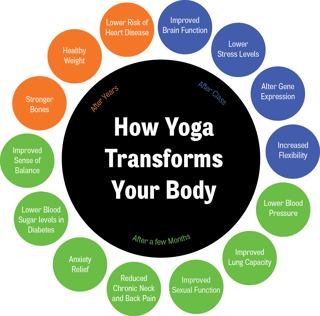 Mental Health
Meditation is a key element of yoga, as it encourages you to quiet the mind and focus on your breathing and movement. This concentration allows you to tune out the world around you, which in turn encourages relaxation and serves as a significant stress reliever. Those who practice yoga routinely often notice an uplifted mood, increased energy and better sleep at night. What's not to love about that?
Physical Health
In addition to the large variety of mental health benefits, yoga also offers a myriad of physical health benefits. One of the most well known benefits is flexibility. Yoga assists in proper alignment and posture through muscle strengthening and stretching. Yoga also encourages relaxation of the body and mind, which serves as an important tool for reducing chronic pains such as lower back pain, arthritis and more. According to the Harvard Health Publications, a study was published in the journal Spine, which revealed, "People with back pain who did two 90-minute sessions of yoga a week for 24 weeks experienced a 56% reduction in pain." And then there is of course muscle toning and strengthening for your core, arms, legs and glutes. Yoga's combination of movements and reliance on your own weight makes for a total body workout.
Yoga in the Park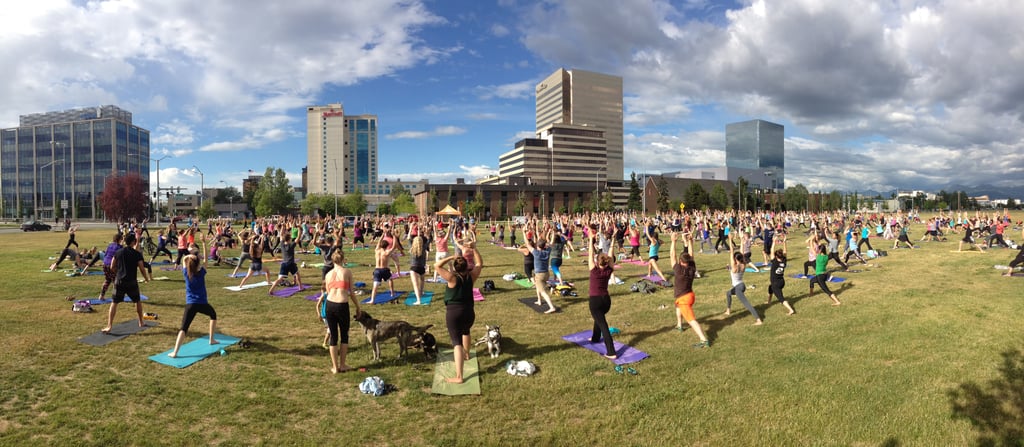 Yoga is about your journey, and no one else's. It's important not to compare yourself to those around you during your practice. You never know whether they are just getting started or have been at it for years. Just remember that no matter what level you are at, yoga is for everyone. All it takes is a mat and the willingness to give it a go.

At The Alaska Club, you can find a variety of yoga classes, including a wide spectrum of hot yoga classes at our new Studio at the former Jewel Lake Express location in Anchorage . The Studio is a state-of-the-art, 1,500 square foot fitness center, where you can find both mind and strength training experiences under one roof. No matter your fitness level, our certified instructors are eager to share the practice of yoga with you.

This summer The Alaska Club will also be hosting Yoga in the Park! The event takes place in Anchorage, Fairbanks and Juneau, is free to all, open to the public, and welcomes all ages. We look forward to seeing you there.

Namaste

Visit http://www.thealaskaclub.com/yoga-in-the-park for more details on The Alaska Club's Yoga in the Park event