You like to exercise outdoors and enjoy the fresh air, nature, and that feeling after a good run. But what do you do when it's too cold out? Some bad weather is okay to exercise in with proper precautions, such as appropriate clothing, lights on your bike, and reflective strips so people can see you. Sometimes, though, it's too darn cold to work out safely. Here are some tips for taking your warm-weather exercise routine into cold weather and indoors when necessary.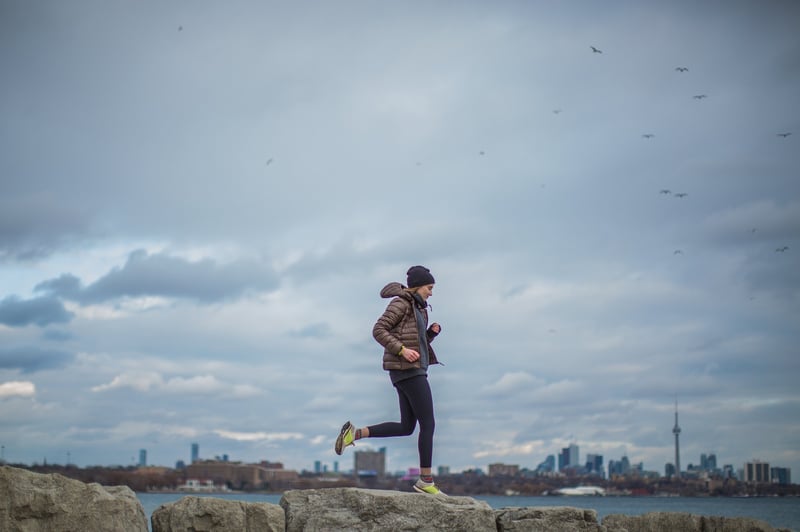 First, realize that keeping yourself warm and dry is the most important aspect of your exercise routine, even if you're running or cycling in the rain. You need a plan for getting dry as quickly as possible so you're not losing body heat from damp clothing. The answer to this problem is layering. Whether you're running in rainy or cold weather, dry air, your exercise routine will cause you to sweat. You need layers of clothing that you can add or take off as your body heats up and cools down. Start with a thin, synthetic layer of material that draws sweat away from your body. Layer fleece or wool clothing over that for warmth, followed by a waterproof, breathable outer layer. Make sure you have protective clothing for your hands, feet, face, ears, and head to keep yourself warm. If you'll be in snow, don't forget sunglasses and sunscreen to protect you from the sun's rays bouncing off the snow, as well as lip balm with UVA and UVB protection. Be sure you're well hydrated, even if you don't feel thirsty.
One tip for working out in cold weather is to do your warm-up inside. That way you're getting limber and stretched out in a body-friendly environment before tackling the cold. You might consider switching your exercise to seasonal activities such as snowshoeing, skiing, mountain biking, etc. Vary your routine and location to really enjoy the winter weather, while keeping someone informed of where you'll be and how long you'll be gone.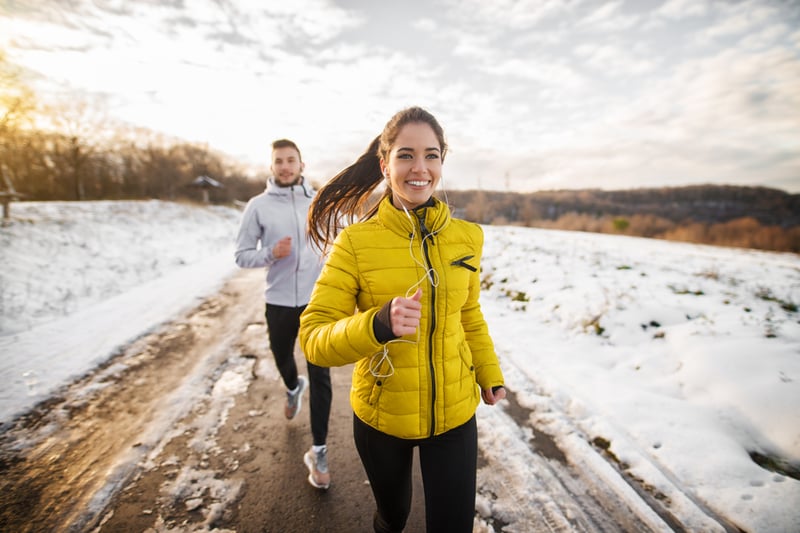 Once it gets too cold, you really need to move your workout indoors. If the wind chill is extreme or the temperature is well below freezing, you don't want to be outside. If you like to run or bike long distances and will be in the cold for a long time, or if you have asthma, poor circulation, or a heart condition, you should reconsider exercising outdoors when temps dip below freezing. If it's rainy as well as cold, you're battling multiple elements and an added danger of drivers not seeing you. Better to stay indoors and alter your exercises.
The good news is that you can get a great workout indoors. You might find an off-peak season special at your local gym or fitness center if you prefer that, or you can get a good workout at home. You can create your own gym with your favorite machines, use equipment that is based on resistance and not mechanics (think jump rope, resistance bands, dumbbells, etc.), or go completely equipment-less and work out using your own body weight on a yoga mat or other padded surface. If that's not interesting enough for you, find a good yoga class online or dance the calories away. Any of these workouts can keep you fit and trim while staying indoors.
Cold weather is no reason to skip your workout, but it does require thoughtful planning in order to keep you warm and dry. If you're determined to keep exercising outdoors despite the cold, be sure to check the weather forecast so that you can be prepared for whatever comes your way. Stay warm, stay safe, and stay fit.