How is it possible that every single Tuesday and Thursday, thirty kids dominate the South pool at The Alaska Club for one-hour week? One reason, is the teaching and direction on Glenn Preston. Glenn has been a coach for The Alaska Club South Swim Team since 2008, but his love of swimming started long before. At the age of 8, Glenn started swimming in the pool across the street from his house. He has had a lifelong love of the water ever since.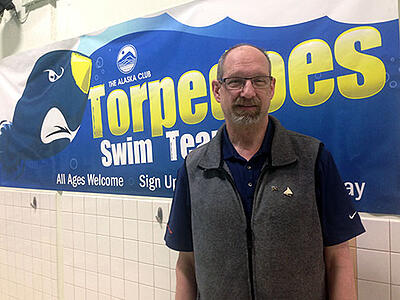 Glenn competed in his first competition that very same year, and he went on to compete through high school and college. At Pacific Lutheran University in Tacoma, Glenn went to Nationals all 4-years, and even had some podium time. Glenn explains his passion for the sport is a couple of things, "First, it's a lifetime sport. Kids and adults, and even older adults can enjoy swimming. It's great for muscle tone, endurance and keeping your heart healthy your whole life."
Another motivator for Glenn to teach swimming is the high rate of drowning deaths in Alaska. He wants to teach people to be able to handle themselves in water, and not be afraid. The camaraderie that a swim team provides is something he wants others to experience as well. Swimming provides individual races, but also a chance to work as a team in the relays.
Glenn not only coaches the South Club's Torpedo Swim team, he also teaches private lessons and the Masters class at the East club. His passion for the sport is infectious. He has up to thirty kids on the Torpedo team who he directs, teaches, but most of all encourages. "Many of my kids have gone on to swim competitively, but my focus is a non competitive positive experience, "Glenn explains. "The biggest challenge I have is instilling the correct form of each stroke but also keeping it fun and exciting for the kids." Glenn more than accomplishes that goal. "He is a huge asset to the Aquatics program," said Aquatics Director Nick Dulawan. "He has organized two non-competitive swim meets, the Turkey Splash and the Spring Splash for many years, to give the kids a chance to showcase their skills to their parents. It's a big hit. Glenn is passionate about his sport, and it really shows when I seen him on the pool deck, whether it's kids or adults. He knows the benefit knowing how to swim, and how it can be a positive influence in a person's life."
If you are interested in signing your child up for lessons or Glenn's swim team please contact:
SOUTH ANCHORAGE: (907) 344-6567, option 3
EAST: (907) 337-9550, option 3
WASILLA: (907) 376-3300, option 3
FAIRBANKS SOUTH: (907) 458-1745
Or, visit us online at thealaskaclub.com