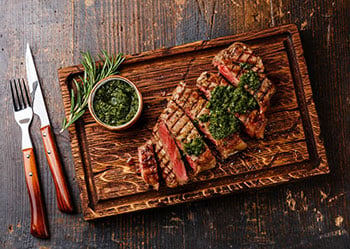 The FDA has finally established voluntary sodium targets for food companies and restaurants with the goal of lowering the amount of sodium (salt) consumed by Americans. In order to enhance the taste of most foods, you don't have to use much salt. Try to use more herbs, fresh or dried. This is one of the quickest and easiest ways to add flavor to foods. Herbs such as parsley, cilantro, chives, thyme, basil, mint rosemary, oregano, tarragon, marjoram, sage and dill are actually packed with more phytonutrients than typical salad greens. Several herbs are associated with lowering blood pressure.
Summer in Alaska is a good time to grow your own herbs in the garden or in the pot. They grow like weeds, so by the end of summer, you are likely to have more than enough. Any excess harvest can be stored (dried or frozen) to be used during the fall and winter. Dried herbs stored in an airtight container and stored in a cool and dark area can keep their flavor for one year or longer.
You can be creative in using herbs. They go well with veggies and with meat or fish.
Here is an example of a South American sauce, rich in antioxidants and flavor. Instead of using the typical salt seasoning on your meat, try this:
Chimichurri (makes about 2 cups)
1/2 cup red wine vinegar or lemon juice
1 teaspoon salt
3-4 garlic cloves, thinly sliced or minced
1 shallot, finely chopped
1 jalapeño, finely chopped or 1 teaspoon black pepper
1/2 cup minced fresh cilantro
1/4 cup minced fresh parsley
2 tablespoons finely chopped fresh oregano
3/4 cup extra-virgin olive oil
Preparation
Combine vinegar, salt, garlic, shallot, and jalapeno in a medium bowl and let stand for 10 minutes. Stir in cilantro, parsley, and oregano. Using a fork, whisk in oil. Remove 1/2 cup of this chimichurri mixture to a small bowl and reserve as sauce. Put meat in a Ziploc bag, stainless-steel or ceramic dish. Toss with the remaining marinade. Cover and chill for at least 3 hours or overnight.
Remove meat from marinade, pat dry, and grill.
Spoon reserved sauce over grilled meat.
Do you want to eat healthy and clean but feel overwhelmed at the grocery store or uninspired by your pantry? Use our Healthy Grocery Checklist to help you purchase smart and stock up on all the healthy essentials you need for gourmet meals (without the guilt).
For more information on how to cook with or store herbs, consult your local dietitian.